"I design for real people. I think of our customers all the time. There is no virtue whatsoever in creating clothing or accessories (or toilet partitions*) that are not practical."

Georgio Armani (*Trey Clasen)
We understand the impulse. You go on vacation, stand among the most beautiful rock formation you've ever witnessed, and are inspired to incorporate that kind of grandeur into the bathroom space of your new building. It's the mark of every great visionary, translating inspiration from one realm into another.
The practical reality, however, is that great materials in the wrong application can lead to disappointing results. Materials that are perfect for the front of house may be complete disasters for bathroom partitions. There are many reasons. The most common revolve around the inherent nature of high foot traffic in public bathrooms. While that rock formation on vacation withstands the harsh treatment from mother nature, it becomes compromised when moved inside and subjected to cleaners and other liquids. Likewise, materials like leather, metal, solid wood, and acrylic cannot, ultimately, withstand consistent marring by purses, rings, belt buckles, and more in the close quarters of a bathroom stall.
Maintenance is another huge consideration. To stand the test of time, bathroom materials must be strong, durable, easily repaired, equipped with compatible hardware, and have components that can be reasonably replaced.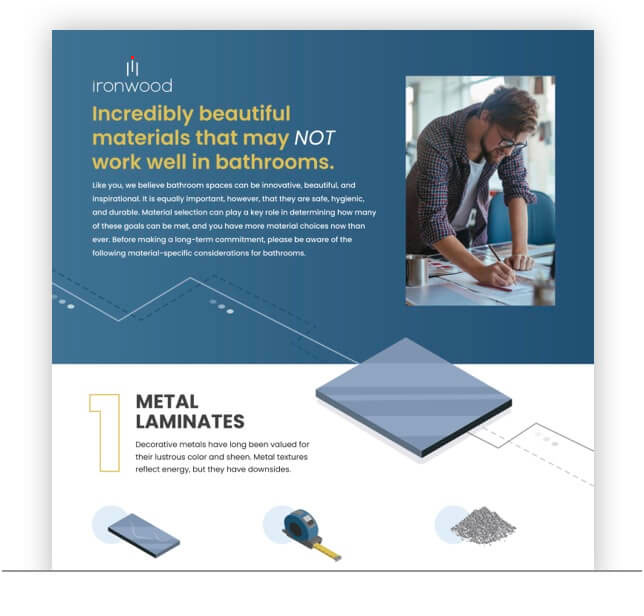 Download the Infographic
If you are considering using "great materials" in the bathroom, check out our latest infographic outlining some of the most common challenges you might face.