This article considers layout ideas for all gender bathroom partitions in public restroom settings. Other issues associated with all gender designs, such as privacy and fire suppression, will be covered in an article to follow.
Why All Gender Bathrooms?
All gender bathrooms address the following issues:
Questions around gender identity and discrimination.
Parents escorting young children of the opposite sex into restrooms.
Caregivers escorting adults of the opposite sex into restrooms.
Space efficiency
Wait time reduction
Layout Considerations and Ideas
There are a handful of considerations which are good to keep in mind when laying out partitions and the components of an all gender public restroom.
Standard Room Configurations
The standard configurations found in most restrooms can be categorized in three ways:
Single user (also called "single input")
Multi-user (typically using partitions)
Hybrid (a combination of the above two)
These three configurations can be illustrated below. Note the absence of a sink in the hybrid layout single user stall. This intentionally conveys a sense of inclusion no matter which stall is used.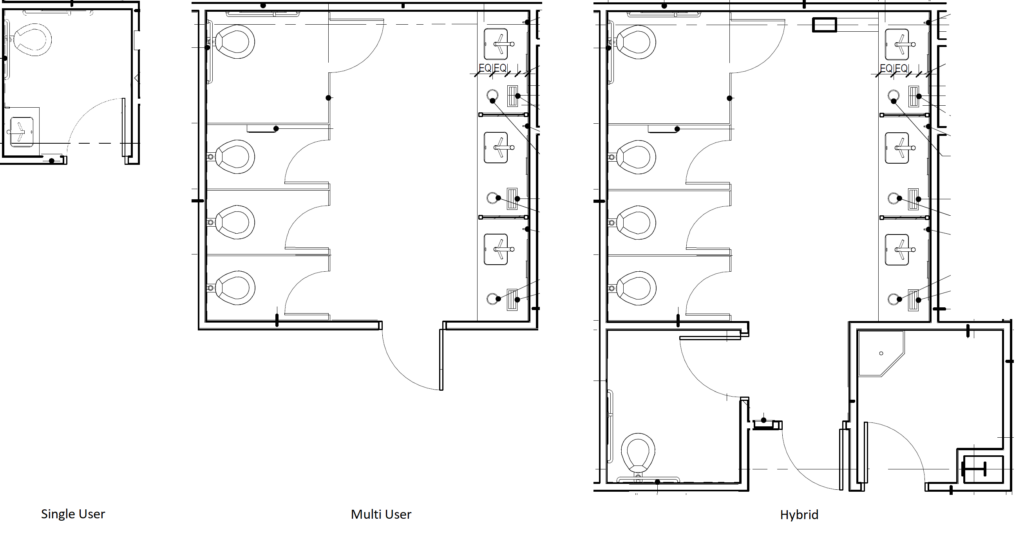 Convertible Room Configuration
A fourth configuration option, the "convertible" style, lays out the restroom so it can be converted into two gender-specific restrooms, should the need arise.
Convertible floorplans can follow a variety of styles, but here is one example:

The key ideas in a convertible layout are having at least two entrances and arranging mirrors, towel dispensers, sinks, and plumbing to allow for minimal disruptions if a divider is added.
Is a Room Even Needed?
Some question the need for an enclosing room. If the stalls themselves are private and secure, then they can simply open into public space. Similarly, sinks, hand dryers, etc. can be located in an open space. Conceptually this is like the portable toilets often used in outdoor venues without regard for gender.
The Cuningham Group has implemented this idea of stalls not being in a dedicated restroom at the Saint Paul Public School District Humboldt High School. This project has stalls in an open area where two busy hallways intersect. The designers cite the benefit of "passive security" inherent in this design due to the almost constant presence of people in the hallways. Placing the stalls in a larger space also makes it easier to meet ADA accessible route and approach requirements.
Studies conducted with the students who used these stalls showed they viewed this design at least as favorably as they did the more traditional design with a dedicated restroom enclosing the stalls.
Designing stalls which are private and secure enough for this "room-less" approach presents challenges which will be discussed in our next article on all gender design.
Stall Dimensions
Wheelchair accessible stalls with floor gaps less than 9 inches (229 mm) below their doors or panels must be at least 66 inches (1676 mm) deep and at least 66 inches (1676 mm) wide. See our articles on bathroom stall gaps and ADA requirements for details on why this is and what variations are possible. This requirement only affects wheelchair accessible stalls. The depth and width of ambulatory and standard stalls are not affected by floor gaps.
If a wheelchair accessible stall is 66 inches (1676 mm) deep and is part of a run of stalls, the extra depth can interrupt the overall appearance of the stall fronts, as illustrated below. If the design intent requires uninterrupted stall fronts, the depth of the standard stalls must also be increased to 66 inches (1676 mm). Alternatively, the wheelchair accessible stall can be laid out in an alcove configuration (also shown below).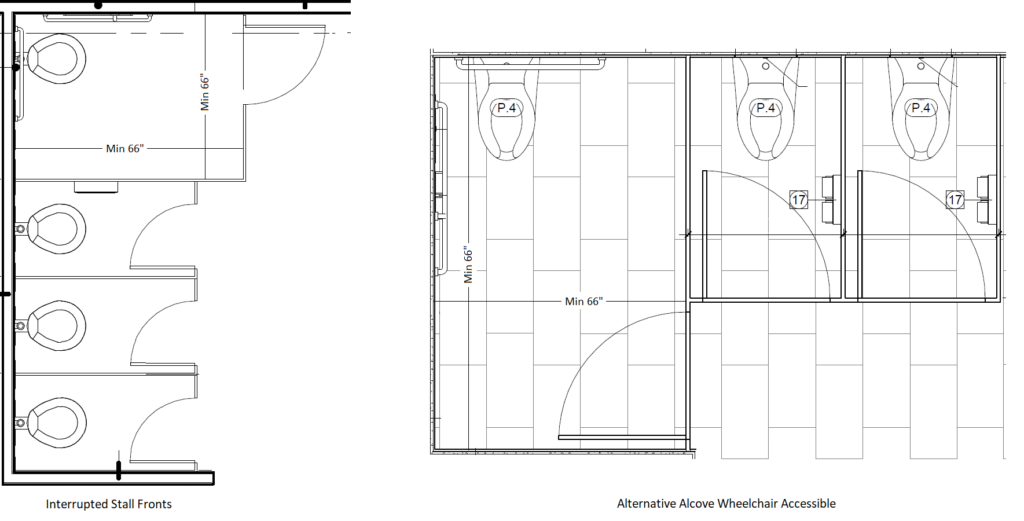 Other Considerations
Having considered layouts, our next article will cover other considerations in all gender restroom design, such as fire suppression, drains, hardware implications, gaps, and more.
Want to Talk?
As always, if you have any questions or would like to consult with us on your design project, feel free to contact us here at Ironwood Manufacturing.